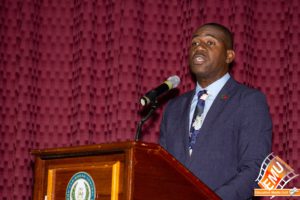 (EMU) – St. Kitts, November 28, 2019: Deputy Prime Minister and Minister of Education, Youth Sport and Culture Hon. Shawn Richards saluted the Government and People of the Republic of China on Taiwan as some 175 students received monetary donations towards their education on Wednesday.
This magnanimous gesture was made possible when the amount of US$120, 000 was handed over to the Ministry of Education for the development of its human resource just over two weeks ago by His Excellency Tom Lee, Resident Ambassador of the Republic of China on Taiwan to St. Kitts and Nevis.
SOUNDBITE: "Since the formal establishment of diplomatic relations between the Republic of China on Taiwan and the Federation of St. Kitts and Nevis 36 years ago, the two countries have achieved close and cordial cooperation on the political, economic, cultural and educational fields.
SOUNDBITE: "We are significantly indebted to your nation for the continued generosity to our nation's children and by extension our nation on a whole." Minister Richards said. 
Minister Richards also used his platform at the handing over ceremony to acknowledge and reaffirm his appreciation for the support of Taiwan in a number of other areas including Agriculture, Health, Simply Help Charity, exchange visits, and tertiary level education opportunities. 
His Excellency Tom Lee was equally exuberant about the donation of scholarships noting that it would help to advance the human resource base in the Federation which has limited natural resources.
SOUNDBITE: "You don't have gold, diamonds, or iron ore. What you have; what you can rely on are your human resources. That is why it is important for you to develop your human resources.
While telling students receiving the monetary scholarships that Education is their passport to the future and key to success, the ambassador advised that due to the Internet and modern technology, students are now competing with others across the globe for future jobs. He therefore urged them to get themselves prepared to face the challenge.
Ambassador Lee assured those present, of his country's commitment to expanding scholarship benefits in the future so that more students can access help from the Taiwanese Scholarship Programme which also includes opportunities to study in Taiwan upon leaving school.
Students from Government secondary Schools around the Federation attended the event on Wednesday November 27, 2019.