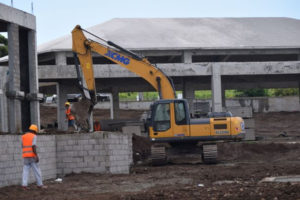 BASSETERRE, St. Kitts, January 17, 2019 (Press Unit in the Office of the Prime Minister) – Prime Minister Dr. the Honourable Timothy Harris led a delegation of top-level government officials on a tour of the 273-suite high-end St. Kitts Ramada Resort, which is currently in an advanced stage of its construction. The Ramada project is being developed by Caribbean Galaxy Real Estate Corporation.
The touring delegation was made of Cabinet ministers Deputy Prime Minister, the Honourable Shawn Richards; the Honourable Vance Amory; the Honourable Eugene Hamilton; the Honourable Vincent Byron, and the Honourable Wendy Phipps, as well as Cabinet Secretary, Mrs. Josephine Huggins. Also on hand were the CEO of Caribbean Galaxy Real Estate Corporation, Ms. Ying Jin; Chief Executive Officer of the Citizenship by Investment Unit, Mr. Les Khan; CEO/Managing Director of the Whitegate Development Corporation, Mr. Ellis Hazel and Ambassador Her Excellency Constance Mitcham.
The tour included a walkthrough of the construction site, which included a visit to a model room completely furnished and equipped with full amenities.
Following the tour, majority of stakeholders on hand expressed their full satisfaction with the progress and direction in which the construction work on the hotel has taken.
While delivering remarks, Mr. Ellis Hazel expressed his delight with the construction work taking place on the development, noting that the Ramada project is arguably one of the largest construction sites in the Federation right now.
He added, "It is likely to grow into the largest construction site in the entire Eastern Caribbean in another couple of months with the pursuit of phase two. Phase two of the project would include possibly two other hotel sites, a series of luxury villas, further condo units and would really lead to the true transformation of the Whitegate area."
Prime Minister Harris used the occasion to reiterate the full support of his Team Unity-led administration to the Ramada project, noting, "We have seen progress here. This is my second site visit…and I am satisfied that the project is advancing apace and the project deserves the continuing support of the Government of St. Kitts and Nevis."
Dr. Harris further added that it was the intervention of his Cabinet after assuming office that helped breathe new life into this project.
"Contracts and commitments were made but nothing more. It was through the hard work of my administration, working in partnership with the developers that allowed them to get from ground zero to where we are today, talking about the imminent opening of a landmark hotel property – an international hotel property in the Ramada Wyndham brand," the Honourable Prime Minister added.
The St. Kitts Ramada Hotel is an approved project under the Citizenship by Investment (CBI) Programme. It is expected to open its doors to the public in September, 2019.