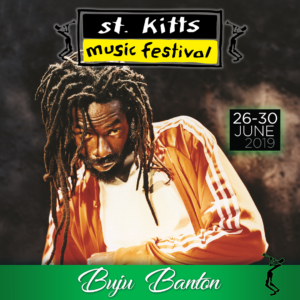 The 2019 St. Kitts Music Festival edition, is going to be EPIC!
That is what organizers promised on Monday, (28th January, 2019), when they revealed the full Roster of Artistes who have been confirmed to appear in St. Kitts, for the three nights of concerts, from Thursday 27th to Saturday, 29th June.
For thousands of fans in St. Kitts & Nevis and overseas, the long wait is over and the momentum is already starting to build.
Actually, the hype began since last year, on 7th December, (2018), when the First Wave of performers was revealed at a press event at the Ocean Terrace Inn, the same venue of today's media launch.
Chairman of the Music Festival Committee, Damion Hobson, said his team has been working tirelessly over the past few months to ensure that the artistes selected are at the top of their game. "In calypso, dancehall, reggae, hip hop and R&B, we have amassed the best of the best for 2019," said Hobson while speaking at the launch event.
He added that, "This year, we are very hopeful that we will again surpass expectations, in terms of visitor arrivals, crowd attendance at the concerts, deliver world class performances, increase levels of spin-off business, especially for small enterprises, and definitely, we are certain that fans will walk away with an unforgettable experience.
Included in the impressive lineup, announced by Ambassador Jonel Powell, as Chairman of the Artistes Selection Committee, is the English singer and songwriter, Ella Mai, who is currently rocking the airwaves with her smashers, Boo'd Up and Trip, which were released in February and August, 2018, respectively.
Her popularity has been growing worldwide, and this year, (2019), she has been nominated for two Grammy Awards – for Song of the Year, and best R&B Song. In addition, Ella Mai is also nominated for a 2019 Brit Awards, as the top Breakthrough Act.
It also includes Buju Banton, Smokey Robinson, French Montano, Davido and Popcaan, who were announced in December.
The latest overseas attractions posted on the final lineup, in addition to Ella Mai, are Charly Black, Farmer Nappy, Fimba, Nadia Batson, Mapy, Shal Marshall, Edwin Yearwood and Krosfyah, SKinny Fabulous, Omari Banks, Cocoa Tea, 5 Star Akil and La Insuperable.
The committee has also put together an outstanding mixture of top class local talent, that features Nu Vybes Band, Small Axe, (current Road March Champions of St. Kitts), IMark, Infamus, Akaii, Melanin, Ras Valley and Rucas H.E.
Hobson said, "Now, as we move ahead with the rest of the lineup, we are confident that today's full roster will also be greeted with much praise and celebration, because we have made sure to satisfy the demands of all sectors of music lovers."
This festival is the most unique one in the Caribbean, and it is living up to its mandate to serve as a tourist attraction, said the chairman.
He also revealed that their recent Economic Impact Study, from the 2018 festival, indicated that over 13 million dollars was spent in the economy and over 2,000 jobs were created directly by the festival. "This tells us therefore that the festival has proven that it can be successful and that it positively impacts the local economy," stated Hobson.
He said the demand for tickets and hotel accommodation has already started. "We encourage everyone overseas to contact their hotel of choice now to make their bookings. We also encourage owners of small inns, apartments, and private homes to get involved and make your facility available because the arrivals from overseas will be high," he added.
Tickets, these are now on sale via the official website, www. stkittsmusicfestival.com.
Unlike 2018, however, this year, there will be no special discount days. All tickets will be sold at EC$135.00.
Hard tickets, will only go on sale from 1st June, at the various outlets that will be announced ahead of time, so for now patrons can buy online.
There is no doubt that the value of what fans get for that subsidized entrance fee, far exceeds what is available anywhere else in the world, said the festival chair.
As was previously announced, this year the concerts will be staged at the Kim Collins Athletic Stadium in Bird Rock. The Kim Collins stadium will be transformed into a world class venue with all the bells and whistles and spectator conveniences.
This will provide far more operating space and should redound to the benefit of all.
Once again, the festival will officially begin on Wednesday, 26th June, with the Escape Fete at Salt Plage, which in two years, this has become a huge event. Organized by Christophe Harbour.
Now that it is a 5 day festival, it means that the curtains will close on Sunday, 30th June, at Carambola, with White Sands.
Monday's Media Launch was chaired by Val Henry of VhCommunications, which is the local marketing representative for the festival.
In attendance was the Minister of Tourism, Lindsay Grant, under whose portfolio the festival falls, along with event sponsors, other government and tourism officials and members of the media.
The St. Kitts Music Festival is an unforgettable experience!