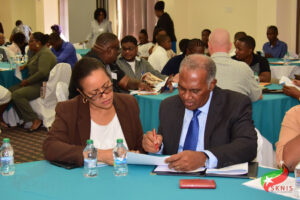 Basseterre, St. Kitts, October 29, 2019 (SKNIS): St. Kitts-Nevis' Minister of State responsible for Health, the Honourable Wendy Phipps commended the organizers of the first regional male nurses conference for promoting gender diversity in the nursing field.
The conference was held at the Ocean Terrace Inn on Thursday, October 24, 2019 under the theme Male Nurses – Why Not??
During the opening, Minister Phipps described the conference as "timely" and expressed hope that the forum would not be "the first and only, but the first of many."
The number of male nurses in St. Kitts and Nevis is minimal. Nevis has two male nurses out of fifty-two registered nurses on the island. However, none of the two are locals. In St. Kitts, there are 14 males among the 282 professionals who work within the nursing field. Eleven of the 14 men are registered nurses. The combined figures indicate that men make up six percent of registered nurses in St. Kitts and Nevis.
Statistics from countries around the world paint a similar picture of men being underrepresented in the field of nursing.
For instance, about eight (8) percent of nurses in Canada are men, according to the Canadian Nurses Association in 2017.  Also, according to a working paper published in October 2017 by the Washington Center for Equitable Growth, only 13 percent of nurses in the United States are men.  Moreover, a 2017 report published by the Scottish Government's Commission on widening participation in nursing and midwifery education and careers stated that the nursing and midwifery student population was currently 92 percent female and 8 percent male, and the proportion of males applying to nursing was falling.
Minister Phipps mentioned that over the years, several movies and television shows such as E.R., Grey's Anatomy, and Casualty have favourably showcased what happens in a hospital setting and have helped to "change the attitudes towards males in nursing."
The minister stated that the October 24 to 26, 2019 conference would also help to change attitudes and encourage more males to become registered nurses or nurses' assistants.
The event was organized by the Retired Energetic Nurses Touching All Lives (RENTAL). It was attended by health professionals, male students, and other stakeholders.