Basseterre, St. Kitts, June 01, 2023 (SKNIS): Centenarians across St. Kitts and Nevis were celebrated for two days this week as the nation observed Centenarians Day on May 31, 2023. Government House proclaimed the day on May 26, 2023.
Centenarians Day allows the nation to pay tribute to eminent citizens for their contributions to national development. On May 30 and 31, Governor-General Her Excellency Dame Marcella Liburd GCMG, JP, led observances to honour the contributions of the ten known persons in the Federation who have attained the age of 100 years and over.
On Wednesday, Dame Marcella journeyed to Newtown, where she visited with 102-year-old Ruby Thomas

"Ms Ruby, we are here to celebrate with you on this Centenarians Day," Her Excellency Liburd said. "We want to thank God for giving you long life. [We pray] that he will continue to give you even longer and to say to you that we really value, appreciate and love you. We want to thank you for the contributions you have made to your family, community and your country."
Deputy Prime Minister and Minister responsible for Ageing, the Honourable Dr. Geoffrey Hanley, also visited "Ms. Ruby" as she is affectionately called.
"We cannot pay you for your contributions that you would have made over all those years, but as a little gesture this morning, we are here to show our love and appreciation to you and the others throughout the country," Deputy PM Dr. Hanley stated, encouraging her to keep shining her light.
Ms. Ruby was presented with a gift basket as well as a bouquet of flowers. She was also wished a Happy Centenarians Day by students from the Tucker-Clarke Primary School.
The next stops on the schedule for Dame Marcella and staff from the Ministry of Ageing were to St. Peter's to visit with 102-year-old George Ebenezer David and 101-year-old Esther Harris. Frances Ann Prince of Cayon, who is 100 years old as well as Angeline Revan, 101 years old of Sandy Point, were also commended for their longevity and contributions to society. Students from a school in the respective communities also joined the visiting party.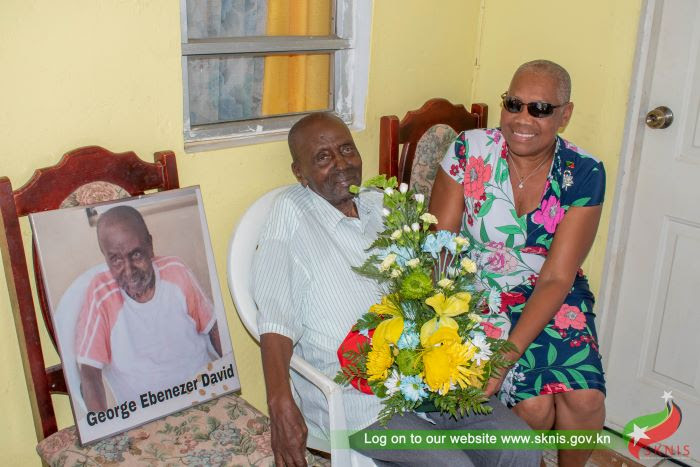 A similar exercise was carried out in Nevis on May 30, 2023. The centenarians on the sister island are Bertram Roach and Clarence Hendrickson. Both are 100 years old. Eliza Jeffers is 103 years old, while Mary Browne is the oldest known centenarian at 106 years old.
-30-