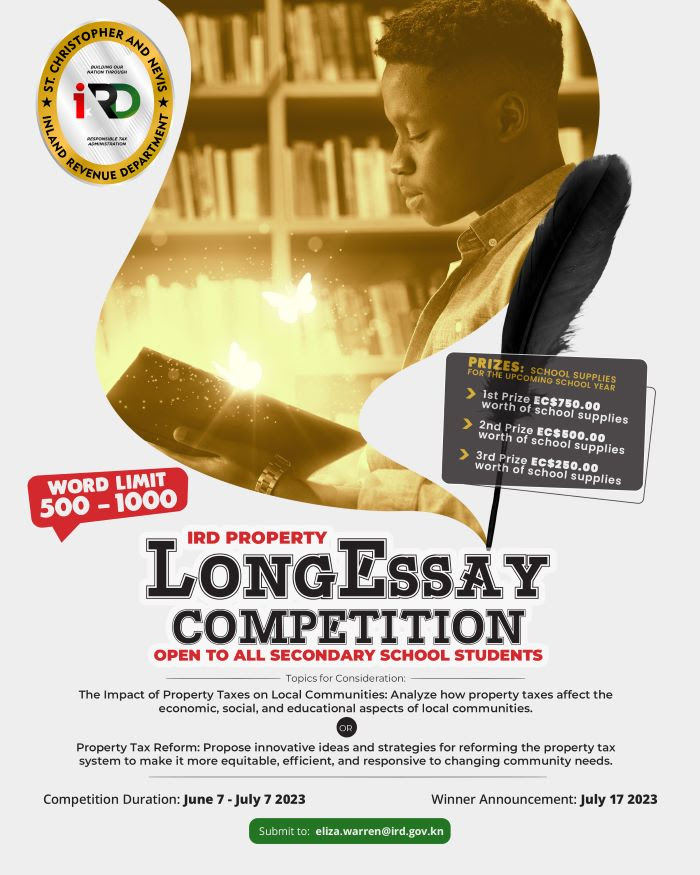 BASSETERRE, ST. KITTS, JUNE 08, 2023 ( St. Christopher and Nevis Inland Revenue Department) – The Inland Revenue Department (IRD) is pleased to announce the launch of its inaugural Long Essay Competition, open to all Secondary School Students. This competition aims to engage and encourage young minds to explore and analyze the impact of property taxes on local communities or propose innovative ideas and strategies for reforming the property tax system.

The two topics for consideration are:

The Impact of Property Taxes on Local Communities: Analyze how property taxes affect the economic, social, and educational aspects of local communities.
Property Tax Reform: Propose innovative ideas and strategies for reforming the property tax system to make it more equitable, efficient, and responsive to changing community needs.

This essay competition provides an excellent opportunity for young students to delve into the intricacies of property taxes and their effects on local communities. It encourages critical thinking, research, and analysis, while also fostering an understanding of the financial and administrative aspects of taxation.

The competition will run from June 7, 2023, to July 7, 2023, giving participants a duration of just over a month to prepare their essays. Entries should be between 500 to 1000 words in length and should be submitted to the IRD's designated email address: eliza.warren@ird.gov.kn. Participants are encouraged to explore multiple perspectives, conduct in-depth research, and present their arguments coherently and persuasively.

The winners of the competition will be announced on July 17, 2023, and will receive exciting prizes in the form of school supplies for the upcoming school year. The prize breakdown is as follows:

First Prize: $750.00 worth of school supplies
Second Prize: $500.00 worth of school supplies
Third Prize: $250.00 worth of school supplies
Not only will the winners receive recognition for their outstanding essays, but they also can start the upcoming school year well-equipped with the necessary supplies.

The Inland Revenue Department is committed to promoting a fair and transparent tax system, and this essay competition serves as a platform to involve young students in understanding the complexities of property taxes and how they impact local communities. By encouraging students to critically analyze and propose innovative solutions, the IRD hopes to foster a sense of civic responsibility and engagement among the younger generation.

For more information about the competition, including the submission guidelines and evaluation criteria, please visit the IRD website at www.sknird.com. The IRD looks forward to receiving insightful and thought-provoking essays from the talented students of St. Kitts and Nevis and wishes all participants success.

About the Inland Revenue Department:
The Inland Revenue Department is the government agency responsible for administering and collecting various taxes and duties, including property taxes. The IRD strives to ensure the fair and efficient administration of tax laws while promoting voluntary compliance and providing excellent customer service to taxpayers.

The Inland Revenue Department, Building our Nation Through Responsible Tax Administration

St. Kitts and Nevis Inland Revenue Department, Bay Road, Basseterre, St. Kitts
Tel: (869) 465-8485, Ext: 3431
Email: inlandrevenue@ird.gov.kn
Website: www.sknird.com
Facebook, Youtube, LinkedIn: St. Kitts and Nevis Inland Revenue Department
Instagram: inlandrevenue