Nassau, The Bahamas, June 8, 2023 (Press Secretary, PMOSKN) – One of the major topics discussed at the U.S.-Caribbean Leaders Meeting in The Bahamas was the issue of crime and violence within the Caribbean region, particularly gun-related crimes including. trafficking and homicides.
 
Vice President of the United States of America, Kamala Harris, expressed the Biden-Harris Administration's commitment "to disrupting firearms trafficking in the Caribbean by interdicting illicit shipments of firearms and ammunition".
 
Prime Minister of Saint Kitts and Nevis, Hon. Dr. Terrance Drew, gave an intervention on the topic of crime and violence, and the issue of gun trafficking and its effects throughout the Caribbean, highlighting that "a resolution is urgent".
 
He reiterated his approach as Minister of National Security to tackle crime and violence as a public health issue. The Prime Minister shared with his fellow Caribbean leaders his decision to establish a National Security Taskforce incorporating various sectors of social development, national security, and education.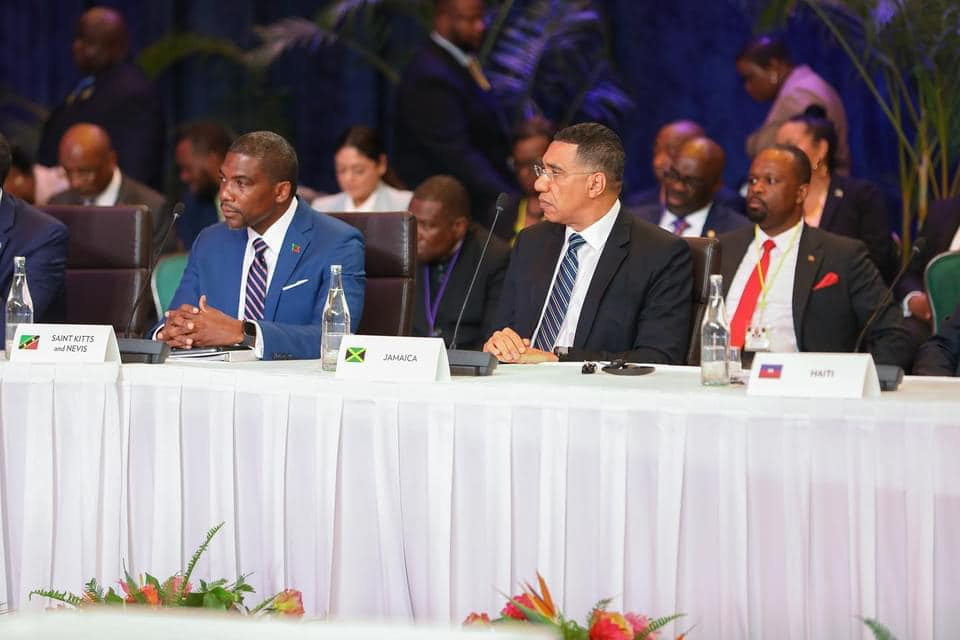 "On the issue of security, too many people in all of our countries are dying from gun violence.  I will reiterate that our administration is committed to disrupting gun trafficking.  We are committed to interdict shipments of arms and ammunition and hold traffickers accountable" Vice President Harris stated. 
 
The Vice President added that the US Department of State is supporting the recently established regional Crime Gun Intelligence Unit (CGIU) in Trinidad and Tobago, which facilitates collaboration and partnership among regional and international law enforcement agencies including the Caribbean Community (CARICOM) Implementation Agency for Crime and Security, and other international law enforcement agencies.
The CGIU will address critical firearms investigation training needs in the Caribbean and help solve gun-related crime cases, deterring gun crimes in the region and bringing criminals to justice. The Unit will also provide training on the collection, management, and analysis of gun crime intelligence and encourage information sharing with international law enforcement partners.

"We are neighbors in the Western Hemisphere. And the security and prosperity of this region requires the type of collaboration and partnership that we have developed and continued to grow over the last two years", said the Vice President.

Another major initiative is the facilitation of a Regional Forensics Accreditation Project. Through this project, the Department of State will assist with raising the standard and strengthening the capacity of Caribbean forensics with the goal of achieving International Organization for Standardization accreditation. The project will support the collection of timely, reliable, and admissible forensic evidence to support criminal investigations and prosecutions, increase efficiency, and help lower case backlogs.

Vice President Kamala Harris also mentioned a collaboration with the United Kingdom to leverage the presence of a senior criminal justice advisor in the Caribbean to mentor local prosecutors and judges, improve the criminal justice experience of victims and witnesses, and enhance public legal education. This program will build more efficient criminal justice systems to achieve more effective prosecutions of firearms-related crimes throughout the Eastern Caribbean.

She added that "it is the full intention of our administration and the United States to continue this good work, knowing, of course, there is more to do but that progress has been made."

###