Basseterre, St. Kitts, June 16, 2023 (SKNIS): Members of the Conaree community were given a comprehensive look at the plans to refurbish the football area of the Conaree Playing Field, transforming it into a home for premier league football games.
The plans were presented at a town hall meeting on Thursday, June 15, 2023, at the Conaree Community Centre. Members of the sporting fraternity and other interested individuals turned out for discussion that featured presentations by officials from the Public Works Department, the Minister of Sports, the Honourable Samal Duggins, and Prime Minister the Honourable Dr. Terrance Drew. Dr. Drew is the Parliamentary Representative for the area.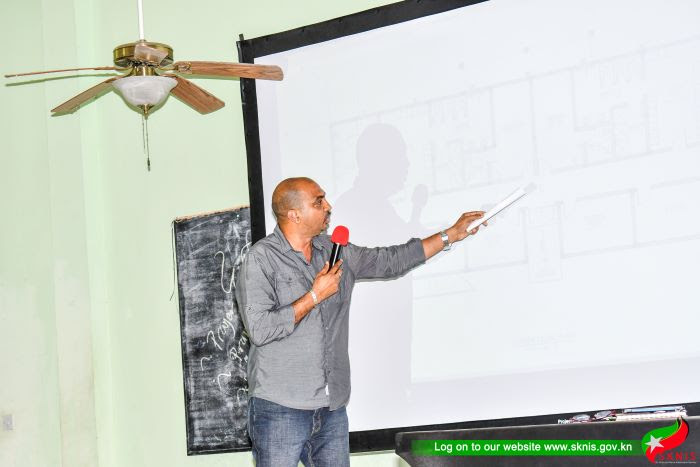 George Gilbert, Director of the Public Works Department (PWD), informed that the main stadium will be a two-storey structure featuring covered seating areas, bars, commentary and media booth, change rooms with showers, bathrooms and storage areas. The installation of ramps, special access seating spaces, and differently-abled stalls in the restrooms ensure that the new facility will cater to persons with disabilities.
"If you are physically challenged you shouldn't be disadvantaged from going to a sporting facility or getting a job," said Director Gilbert stated, noting that thrust by the government to improve access for differently-abled individuals is commendable and has been embraced by PWD.
Minister of Sports Duggins noted that upgrades to the football section, which also includes the playing surface, will begin in earnest following the completion of the necessary tender bidding and procurement process. He added that work will also be executed on other sections of the facility including the netball and basketball areas following the completion of the football section.
"We are doing this because we believe that sport is a viable means for our young people to move forward in life," he stated, noting that professional careers are not limited to working in a jacket and tie.
Minister Duggins referred to the success of local iconic athletes such as Kim Collins in track and field and Atiba Harris in football and made mention of their global success.
"We want to have 100 more Atiba Harrises and 100 Kim Collins and 100 more in every other discipline. But how can we get there?" asked the minister. "You have to have the facilities, training, and the basics of what it takes so that you can improve upon yourselves. We recognize that, and so we want to put every effort into offering you what we can as a government so that you can in turn apply your craft and be the best that you can be."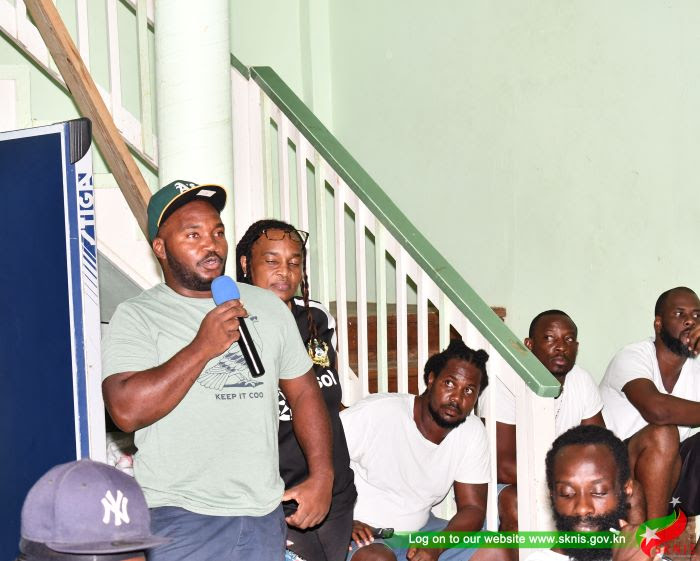 Prime Minister Drew assured that the project is fully funded and will be completed.
"I wanted this meeting to happen tonight … because I wanted the community to see it and to have some input," said Dr. Drew. "This is part of the first phase of building out the whole stadium, getting this done, the field, and the lighting because as I said, we want in 2024 [to have SKNFA] Premier Games in Conaree."
-30-