Havana, June 16, 2022.
The Embassy of St. Kitts and Nevis is today hosting a Red Cross Training workshop for the benefit of the entire staff. The aim is to equip the staff with the necessary training for moments of emergency utilizing First Aid and resuscitation skills.
This capacity-building exercise is taking place under the auspices of the Cuban Red Cross (Cruz Roja Cubana) and the Ministry of Foreign Affairs of Cuba at the conference room of the Embassy. The training is facilitated by Dr. Giselle Garrido Amable, Clemente Acosta Aloms, and María Dolores García Lara.
The Ambassador, H.E. Verna Mills, in her opening remarks, expressed her gratitude to the presenters for their support and willingness to facilitate the training and for collaborating with the Embassy to create a safer workplace. She also thanked the staff for their presence at the workshop and encouraged them to participate actively in order to have an enriching and engaging learning experience.
Ambassador Mills further commented that "accidents happen when we least expect them, therefore, we must be equipped with the basic skills to lend a helping hand in times of emergencies."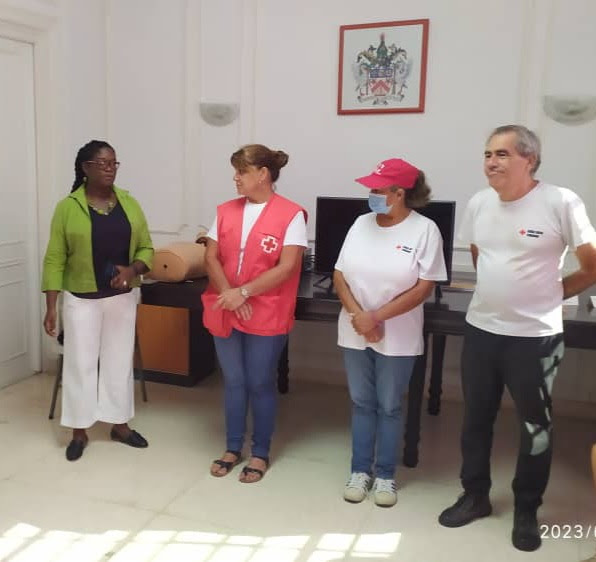 She also mentioned that the International Federation of Red Cross and Red Crescent Societies (IFRC) has adopted the vision of "One Billion Coalition for Resilience". By 2025, the IFRC aims to support one billion people around the world in their efforts to strengthen their personal and community resilience by creating networks of caring individuals. This initiative spans a ten-year cycle and was launched in late 2015. Ambassador Mills concluded that the Embassy of Saint Kitts and Nevis is doing its part to prepare its staff to become more caring individuals and to lead them on a path to becoming first aiders.
At the end of the workshop, certificates of participation will be distributed to the attendees.
-30-