BASSETERRE, St. Kitts, June 29, 2023 (SKNIS) – The Ministry of Health in St. Kitts and Nevis continues to invest in the development of human resource capacity at the Joseph N. France General Hospital through training opportunities.
 
On Thursday, June 29, 2023, approximately twenty-five (25) administrative staff at the General Hospital received their certificates for successfully completing a Medical Terminology Course.
 
Medical terminology refers to the language used in the field of medicine to describe anatomical structures, processes, conditions, medical procedures, and treatments.
 
The six-week training course ran from March 28 to May 11, 2023, and was attended by staff of the Medical Records Department of the JNF General Hospital.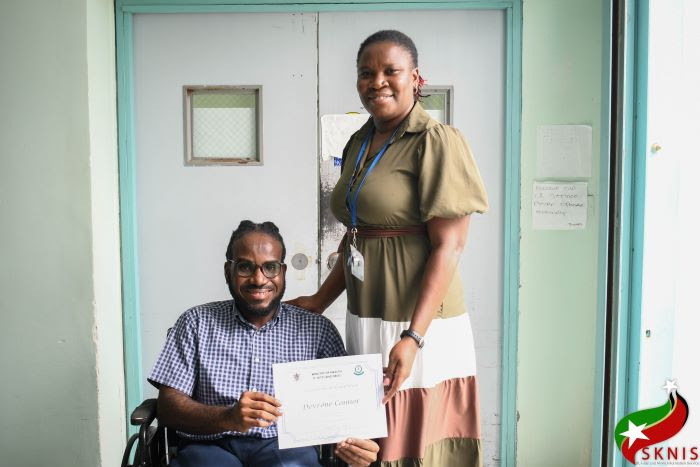 Course Facilitator and Lecturer at the Division of Health Sciences of the Clarence Fitzroy Bryant College (CFBC), Marshalette Smith-Anthony, indicated that it is critically important that the medical records team at the hospital know and understand medical terminology.
 
"This course allows you to communicate effectively using the relevant medical jargon; to identify, pronounce and spell medical terms; to use the terms in context to construct medical terms and employ terms performing to different systems of the body, as well as applying this new knowledge in your roles and future expanded roles as members of the healthcare team," Smith-Anthony said.
 
Prime Minister and Minister of Health, the Honourable Dr. Terrance Drew attended the graduation and certificate presentation ceremony where he applauded the participants for completing the six-week course.
 
Prime Minister Dr. Drew also described the training as timely and one that will increase the efficiency of the medical staff.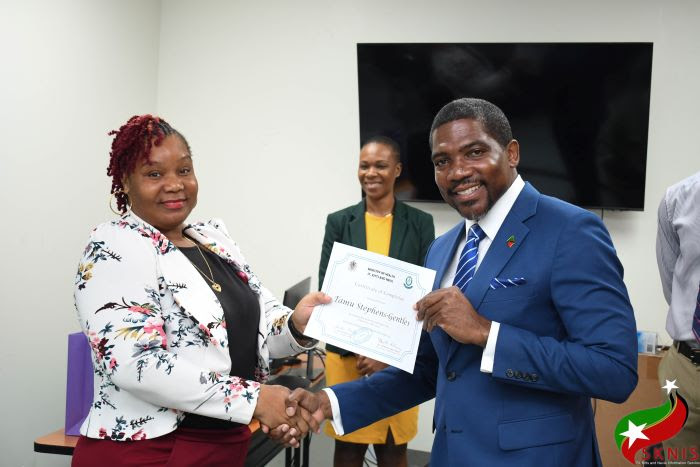 He said, "I know sometimes when the doctor writes what they write, a lot of the things it is not so much that the writing is bad, but it is that you cannot recognize the words. So now that you know the words, even though the writing is bad, you would be able to start to decipher what that word is."

"I think this is also timely because we are going to introduce soon Electronic Health Information System. We are now building out the fibre optics systems which will be completed in November and after the fibre optics system is completed we will put the health information system on it and that means therefore that the information that is there that you have to manage, you will be in a better position to manage it as well," the prime minister added.

In attendance at Thursday's ceremony were the Director of Health Institutions, Dr. Jenson Morton, Principal Nursing Officer, Dr. Rondalyn Dennis-Bradshaw, and Director of Operations at J.N.F General Hospital, Ms. Lindsey Maynard.
-30-