Basseterre, St. Kitts, July 18, 2023 (SKNIS): Richard Skerritt, Advisor to the Ministry of Tourism in St. Kitts, was awarded an Honorary Doctor of Social Science degree from the University of Bolton in the United Kingdom for his contribution to the tourism sector.
"Yesterday [July 13] was both a humbling and proud moment for me as I had the privilege to accept an Honorary Doctor of Social Science degree from The University of Bolton, an institute that puts its students at the center of its strategy and has consistently been ranked in the top five universities for student satisfaction," Mr. Skerritt wrote in a LinkedIn post.  "I am grateful to have represented St. Kitts and Nevis and the wider Caribbean on that esteemed stage. This recognition serves as a reminder that our efforts to advance society and foster positive change are never in vain."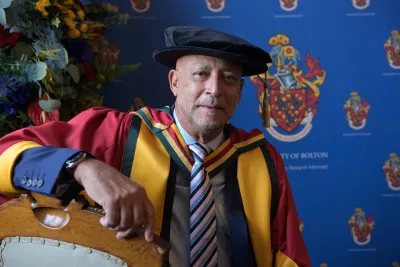 Mr. Skerritt further wrote that St. Kitts and Nevis's Motto: "Country Above Self" has proven to be words to live by.
"I've used [this motto] throughout my career to motivate myself, encourage others to lend their talents to the betterment of their homeland, and emphasize the personal sacrifices required to effect sustainable change in the public and non-profit sectors."
A post on the university's website https://www.bolton.ac.uk/ stated that Mr. Skerritt received a Doctor of Social Science for his outstanding contribution to Sustainable Tourism Development.
"Mr. Skerritt is the principal director at Skerritt & Associates and has been a major force for socioeconomic change and sustainable economic development in the Caribbean and beyond. For more than 35 years, he has led positive, long-lasting change in the private sector, government ministries and regional sports," as stated on the website. "As President of Cricket West Indies from 2019-2023, he was instrumental in improving the organization's finances, which had been in decline for some time. He spent more than a decade as the Minister of Tourism & International Transport for St Kitts and Nevis."
Mr. Skerritt thanked the "esteemed Chancellor, Vice Chancellor, and the distinguished members of the Board of Governors for this incredible honour."
-30-