BASSETERRE, St. Kitts, July 27, 2023 (SKNIS) – After several rounds of consultations and input from the various stakeholder partners, the Ministry of Agriculture, Fisheries, Marine Resources and Cooperatives has officially launched its comprehensive plan that outlines St. Kitts and Nevis approach to achieve CARICOM's 25 by 2025 Agenda.
 
CARICOM's 25 percent by 2025 initiative seeks to reduce high food imports by 25 percent by the year 2025.
 
Director of Agriculture, Ms. Jeanelle Kelly, while delivering welcoming remarks at the launch event on Thursday, July 27, said this initiative will contribute towards strengthening the Federation's food systems and transform the agricultural sector to help ensure food and nutrition security.
 
Speaking on the importance of the 25 by 2025 Initiative, Director Kelly stated, "Our collective food import bill in the region was US$3 billion in 2016: US$5 billion in 2018 and $4.78 billion in 2019. Our own country's import bill contributed approximately US$200 million to these figures. As a result of this, the Heads of Government of CARICOM decided to commit to reducing the region's large food import bill by 25 percent by the year 2025 by paying special attention to prior crops and products such as corn, meat including sheep, goat and beef, fish, soya, rice and niche vegetables such as broccoli, carrots, onions and tomatoes which are highly imported in the region. Also targeted for increased production are fruits, roots and tubers, herbs and spices and livestock with a special focus on poultry as it accounts for more than 80 percent of the meat consumed in the region, which steadily increased over the period 2018 to 2020."
 
Minister of Agriculture, Fisheries, Marine Resources and Cooperatives, the Honourable Samal Duggins said the Federation's food import bill of nearly $200 million is worrying, as a significant portion of this figure can go directly to local producers and farmers.
 
"As we stand here today, talking about CARICOM's 25 by 2025 Agenda, our food bill stands at $190 plus million dollars, closer to $200 million. And if we do a simple mathematical equation, we recognize that 25 percent of that is somewhere near $50 million, and the essence of what we are here discussing today is how we can share $50 million amongst all of you. But of course, that $50 million is not just cash in hand. It requires your work, your effort and dedication, but ultimately with that, there's a guaranteed $50 million that is being spent annually that should go and be shared amongst all of you. My job here as the Minister of Agriculture is to ensure that that $50 million is going to you," Minister Duggins said.
 
The honourable minister said he is of the strong belief that the stakeholders here in St. Kitts and Nevis have the potential and competence to increase the agricultural output needed to reduce the import bill and ensure that some monies remain in the Federation.
 
"Minister Evelyn made it very clear that we have some of the best soil in the world. We can do it. Our weather conditions allow for growing all year round, not just partially. We can do it because we have some of the most innovative, some of the most intelligent, hardworking people here in St. Kitts and Nevis. For far too long there has not been a real drive with the political will to improve agriculture…and so my job is to ensure that St. Kitts and Nevis exceeds and excels," said Minister Duggins.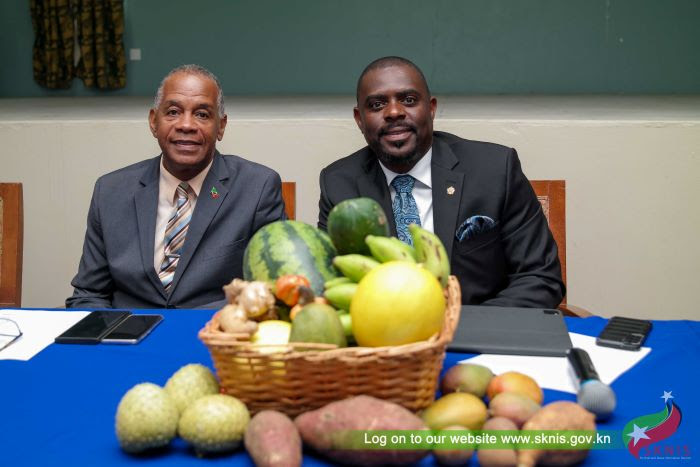 He continued, "We have to embrace innovation; we have to embrace the way forward; we have to harness the collective knowledge of our stakeholders on the ground, our stakeholders in the region and our stakeholders internationally, we must do everything that we can to ensure that we bring all the resources, all of the knowledge, all of the will, all of the support and centralize it, focus it, because $200 million is not impossible to achieve. Grenada produces $160 plus million dollars annually, why can't we? I know we can and with my commitment here, not only that we can, but we will do everything to ensure that we do."

The launch event of the CARICOM 25 by 2025 Initiative, held at the Department of Agriculture Conference Room, also featured remarks from the Minister of Agriculture on Nevis, Honourable Eric Evelyn, while Permanent Secretary in the Ministry of Agriculture on St. Kitts, Mr. Miguel Flemming delivered the presentation on the Federation's 25 by 2025 Approach.

-30-