Bridgetown, Barbados, July 26, 2023. Building a modern, sustainable, and climate resilient agri-food sector that contributes to economic growth is paramount for the Caribbean region and in that context the CARIFORUM-EU Economic Partnership Agreement (EPA) is pivotal to boosting much-needed investments, two-way trade and achieving sectoral development in the sector..
This was revealed by Mr. David Mogollón, Head of Cooperation of the Delegation of the European Union to Barbados, the Eastern Caribbean States, the OECS and CARICOM/CARIFORUM at a webinar held on July 20 during which the findings of an EU-funded study on business opportunities in Agriculture, Fisheries, and Food Processing in CARIFORUM were presented. It was the third webinar on sectoral trade and investment opportunities in the CARIFORUM region within the framework of the CARIFORUM-EU EPA.
According to Mr. Mogollón, "EU investments can be notably facilitated by level playing field rules on establishing a commercial presence in the Caribbean, easier and less costly imports of EU equipment and machinery, or by open access to European efficiency-enhancing services. For whatever goods produced in the region the EPA would also provide for duty-free access on the EU market," he stated. The EPA also covers cooperation and assistance to the CARIFORUM agri-food sector in priority areas such as market development, innovation, linkage development, financing, international health standards for fish and fish products and investment promotion support.
Mr Mogollón also highlighted EU programmes available to the region, such as the provision of expert exchanges which allow EU and Caribbean professionals to work together to achieve common objectives in key areas such as renewable energy, water management, sanitary and phytosanitary measures (SPS), and investment promotion which are crucial drivers to boost business opportunities in the region.
Mr Mogollón added that to boost food security in the Caribbean, the EU will be mobilising significant cooperation resources to support several areas in the agricultural sector. These include smallholder farmers' production, access to credit, agritech, agri-food value chains, SPS, nutrition, and social protection. "Through our continued engagement with Caribbean and international partners, we are promoting the EU presence and investments in the region to collectively build a modern, sustainable, and climate resilient agri-food sector that contributes to the economic growth, food security, and reduction of poverty in the Caribbean. The new partnership includes the promotion of intra-regional trade of food products and to develop more resilient agri-food systems (including fishery), in line with the Farm-to-Fork strategy of the European Green Deal. This approach will also contribute to an increased trade potential with the EU of agricultural and fishery products from the Caribbean," explained Mr. Mogollón.
Honourable Zulfikar Mustapha, Minister of Agriculture for the Co-operative Republic of Guyana, who also gave opening remarks, cited a 2022 Survey by the Caribbean Community (CARICOM) and the United Nations World Food Programme (WFP) which indicated that nearly 4.1 million people or 57% of the population faced food insecurity. He noted that the region's initiatives aim at achieving food security and a region with a competitive, innovative, dynamic and integrated food and agriculture sector. He added that the CARICOM "25 by 2025 Initiative", which aims to reduce extra-regional agri-food import bill by 25% by the year 2025, addresses cross-cutting issues, such as barriers to trade, financing, developing insurance, market facilitation and transportation, all of which are necessary to ensure a favourable investment climate in the region.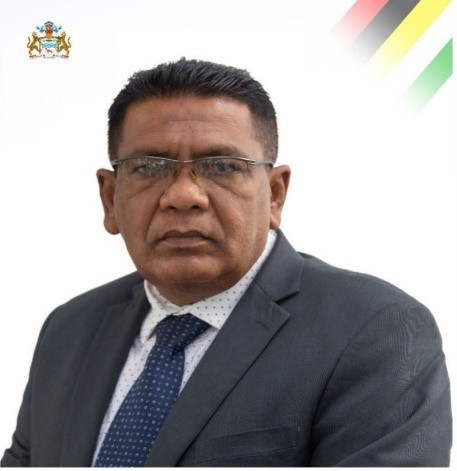 He stated that the programme has created "an opening for diverse investment opportunities and a competitive edge in the production of poultry, corn, soya, niche vegetables, meat (goat, mutton, beef, pork), root crops (Irish/white potato, sweet potato, yams), herbs and spices (ginger, black pepper, and turmeric), fresh fruits, fisheries (including aquaculture) and nutraceuticals. There are also significant opportunities in agro-processing, shipping and logistics and other support services to food and agriculture." He urged the EU private sector to foster valuable agri-business partnerships in the region, indicating that the investment opportunities are vast as the region pushes the food security agenda. "This webinar is a very important step towards achieving Vision 25 by 2025 by promoting the development of the agriculture sector through EU investment and trade by seizing the opportunities offered by the CARIFORUM-EU EPA," he added.
The webinar disseminated the findings of the EU-funded study, which showed that the CARIFORUM region presents significant trade potential for EU companies based on its import trends. It cited the region's food imports which in 2022 exceeded EUR 15.5 billion, of which the EU accounted for only EUR 1.2 billion, suggesting that there are opportunities for EU exporters to increase their share of agri-food exports to CARIFORUM and/or invest in CARIFORUM to meet regional demand. Additionally, with the growth trend in EU agri-food imports from CARIFORUM, there is an opportunity for EU businesses to invest in CARIFORUM to increase the export of agri-food products to the EU and elsewhere.
The study also identified three main areas of opportunities: trade in equipment and machinery; investing for domestic production and exports; and efficiency enhancing services. Regarding trade in equipment, and machinery, the study underscored irrigation agriculture, fruit and vegetable packaging, storage and conservation chain improvement, and new climate-adapted production systems. For domestic production and exports, the study highlighted poultry, corn and soy, niche vegetables, fruits, roots and tubers, herbs and spices, and livestock, as well as export crops already produced regionwide such as cocoa (Dominican Republic and Trinidad & Tobago); coconuts (Guyana, Suriname); medical cannabis (Jamaica and St. Vincent and The Grenadines); aquaculture (Dominican Republic – tilapia, Belize – shrimp, and Guyana – fish); and organics where the Dominican Republic is already a key player and the leading exporter to the EU. For efficiency enhancing services, the study featured opportunities in veterinary services, testing and analysis, packaging, storage and warehousing, and engineering services.
-End-