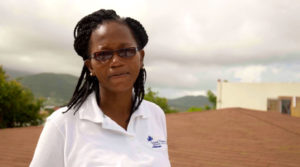 Basseterre, St. Kitts, October 03, 2018 (SKNIS): Citizens and residents continue to praise the Team Unity Government for its roof repair initiative that has not only seen the restoration of roofs, but the creation of a number of jobs.
Persons can be seen hammering and placing shingles on roofs all across the island. It is evident that the Team Unity Government has created a vast number of jobs for citizens. In fact, over 400 persons are currently gainfully employed.
"I would like to say thanks to the Team Unity Government for providing jobs for the poor people and for fixing people's roofs," said one man, expressing his gratefulness for the government. "Big up to Team Unity," he continued, making it known that it was the Government of National Unity that made his employment possible.
The project, which started in late April of this year, has seen an average of forty roofs repaired each week.
The National Emergency Management Agency (NEMA) indicated that there were 1,114 reported cases of homeowners with damaged roofs to varying degrees throughout St. Kitts due to the tropical cyclones.