Oct. 31, 2022: Entrusted by the Ministry of Foreign Affairs of Taiwan, the Taiwan External Trade Development Council (TAITRA) is pleased to announce the participation of 26 Taiwanese enterprises either in person or by samples or catalogs in the annual Taiwan Expo in St. Kitts and Nevis, to be held from November 5th to 7th in the lower lobby and St. Vincent and Dominica rooms of St. Kitts Marriott Resort. The Taiwan Expo will be open to the public at 10am-4pm on November 5th, and 9am-4pm from November 6th to 7th.
Following a successful precedent of trade show held in Nevis last December, the Taiwan Expo this year will showcase a wide range of products that meet the needs of industries, businesses and households in St. Kitts and Nevis, including solar panels, sport equipment, skin care products, food and beverage, information and communication technology (ICT) products, consumer electronics, motorcycles, off-road (four-wheel) vehicles, hardware, household products, and auto parts.
Furthermore, this year a business delegation is coming to St. Kitts and Nevis in person, allowing more direct conversations and exchanges with local partners.
[legend] 2021 Taiwan Expo in St. Kitts and Nevis, December, Malcolm Guishard Park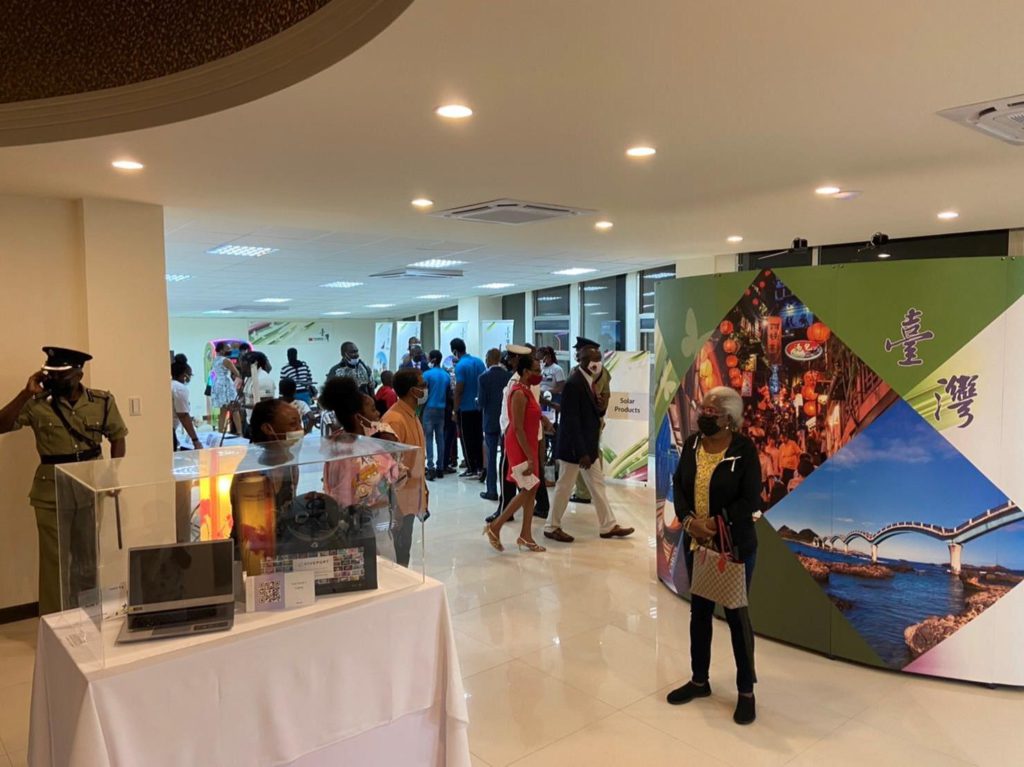 In the interest of providing quality products to St. Kitts and Nevis, this year's Taiwan Expo is proud to feature a number of Taiwanese enterprises. One highlighted company, SPEEDTECH ENERGY CO., LTD. which was founded 17 years ago, is a total solar solution provider that specializes in the design, development, and manufacturing of solar photovoltaic and LED power solutions. The company's mission is to provide the world with clean, efficient, affordable and sustainable energy solutions. Another featured company is VICTORIA NATURE CO., LTD., a manufacturer of knife sharpeners, can openers, kitchen knives, and garden scissors. Its Diamond Sharpener & Cutter, a multi-purpose roller cutter with German patent steel hardness 9.25 and ABS plastic tool holder can cut a variety of materials including glass, tile, cardboard, and cloth in a straight line or a curve.
As St. Kitts and Nevis has long been committed to the development of the tourism industry, the Taiwan Expo features a number of competitive sport products for outdoor leisure and water sports. AROPEC SPORTS CORP., established in 1963, has been providing quality water sport products and services to 86 countries for over half a century. Their products include equipment for diving, surfing and swimming, and have recently expanded to triathlon and outdoor sport products. SAEKO, founded in 1979, is a specialized swimming goggles manufacturer. With its company principle "Integrity, Flexibility, Quality", and ISO 9002 ISO 9001: 2008 certifications, SAEKO is a brand that professionals can trust.
In addition to outdoor activities, leisure foods are an indispensable part of modern life, especially the globally renowned Taiwan Bubble Tea. KUO JER ENTERPRISE, established in 1976 and in compliance with all HACCP and ISO 22000 standards, specializes in OEM and ODM and serves as a one-stop shopping service for its customers. CHEN En FOOD PRODUCT, with over 30 years of experience, upholds its core values of "Professional, Honesty, Efficiency, Warmth, and Innovation". Their signature beverage is bubble tea made with alternative milk from Taiwan, with shipping service to more than 60 countries. In addition to bubble tea, Taiwan's coffee is another beloved specialty. Mr. Brown Coffee products, from KING CAR FOOD, is one of the largest Taiwanese manufacturers, with its coffee products now being exported to 33 countries.
Apart from beverages, Taiwan's snacks are also a good choice for international customers. The manufacturer TSAN YU YEN FOOD's "Home Bake" brand is famous for its organic rice and sugar-free products. Their skills in developing products for different markets have allowed the "Home Bake" brand to offer a variety of products to several countries during the past two decades. HURNG FUR FOODS FACTORY, a baked goods manufacturer that values unity, reality, innovation, quality, service, and efficiency, has been operating sustainably for 30 years. Their products have long been welcomed at home and abroad, in America, Canada, Australia, New Zealand, Southeast Asia, and Europe.
In addition to the aforementioned feature items ranging from solar products, hardware and sport equipment to food and beverage, the Expo will also showcase electronics, scooters and motorcycles, skin care products, household products, poultry feeders and pet products, and auto parts such as lamps and wipers.
Despite challenges due to the pandemic and rising shipping costs, Taiwan is committed to organising the annual trade show so as to further strengthen the bilateral trade relations between the two countries. The event will afford local customers and business owners the opportunity to meet Taiwanese suppliers in person or online to discuss collaborations, and further strengthen trade ties between Taiwan and St. Kitts and Nevis. Besides the participating Taiwanese companies, the Taiwan Expo also invited several local businesses to promote their products and connect with Taiwan's private sector.
The Taiwan External Trade Development Council (TAITRA) warmly welcomes enterprises interested in Taiwanese products to visit the Taiwan Expo in SKN from November 5th to 7th in St. Kitts Marriott Resort, and take advantage of this remarkable opportunity to connect with Taiwanese enterprises in St. Kitts and Nevis.
For the comprehensive list and product information of the participating Taiwanese companies, please download the electronic booklet here:
For more information about the Taiwanese business delegation, please contact:
Embassy of the Republic of China (Taiwan) in St. Christopher and Nevis
P. O. Box 119, Taylor's Range, Basseterre, St. Kitts, West Indies
Tel: +1-869-465-2421
Taiwan External Trade Development Council (TAITRA)
5-7 Fl., 333 Keelung Rd., Section 1, Taipei 11012, Taiwan
Tel: +886-2-2725-5200 Ext. 1334 Email: goldie@taitra.org.tw; taitra@taitra.org.tw