BASSETERRE, St Kitts, 27th June 2023 –The Government of St Kitts and Nevis was represented by the Ministry of Environment, Climate Action & Constituency Empowerment during the 108th Special Meeting of the Council for Trade and Economic Development (COTED) for Environment and Sustainable Development virtually, with other Member States of CARICOM on Tuesday, 27th June, 2023.
The high-level meeting included a Ministerial Roundtable Panel moderated by Minister responsible, Hon. Dr. Joyelle Clarke in addition to a Ministerial Caucus to confirm key decisions for CARICOM Small Island Developing States (SIDS) as the Bloc heads to upcoming major international events including COP28 and the SIDS Conference.
The High-Level Roundtable proposed clear guidance for COTED on advancing environmental and natural resource governance in CARICOM, climate finance, climate justice and regional integration for transformational change.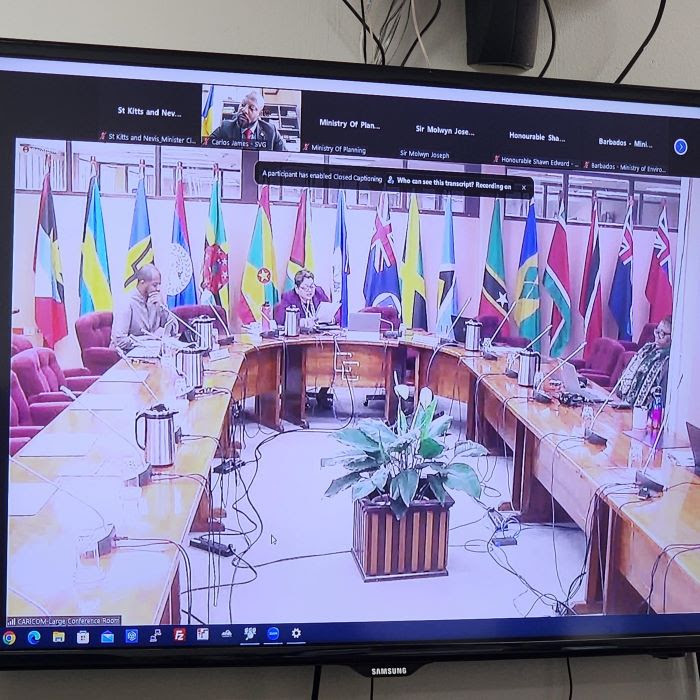 The COTED Plenary prepares CARICOM Member States for the 28th Session of the Conference of the Parties to the UN Framework Convention on Climate Change (UNFCCC) more commonly referred to as COP28 that will convene in the United Arab Emirates from 30 November to December 12, 2023.
CARICOM's outlook for the Climate Agenda going into COP28 borders on Collective Action, Advocacy, Regional Integration, Climate Justice, and more ambitious and intentional action for addressing the international climate financing architecture which protects the most vulnerable countries, economies and people in the region.
Ministers from the participating Member States reinforced the urgency of the 1.5° pathway, the $1 billion threshold and the collective strength of SIDS in demanding change and justice in the international landscape for climate agreements, and climate finance, in particular, Loss and Damage.
-30-