BASSETERRE, Saint Kitts (16th August 2023): Minister of Sustainable Development, Environment, Climate Action and Constituency Empowerment, the Hon. Dr. Joyelle Clarke, accompanied by Permanent Secretary in the same Ministry, Nerissa Williams, and Communications Officer, Denaula Laplace, hosted a visiting delegation from the United States headed by Her Excellency Linda Taglialatela, Ambassador to Barbados, the Eastern Caribbean and the OECS, and also including Katherine Beamer, Director in the State Department's Office of Caribbean Affairs on August 14.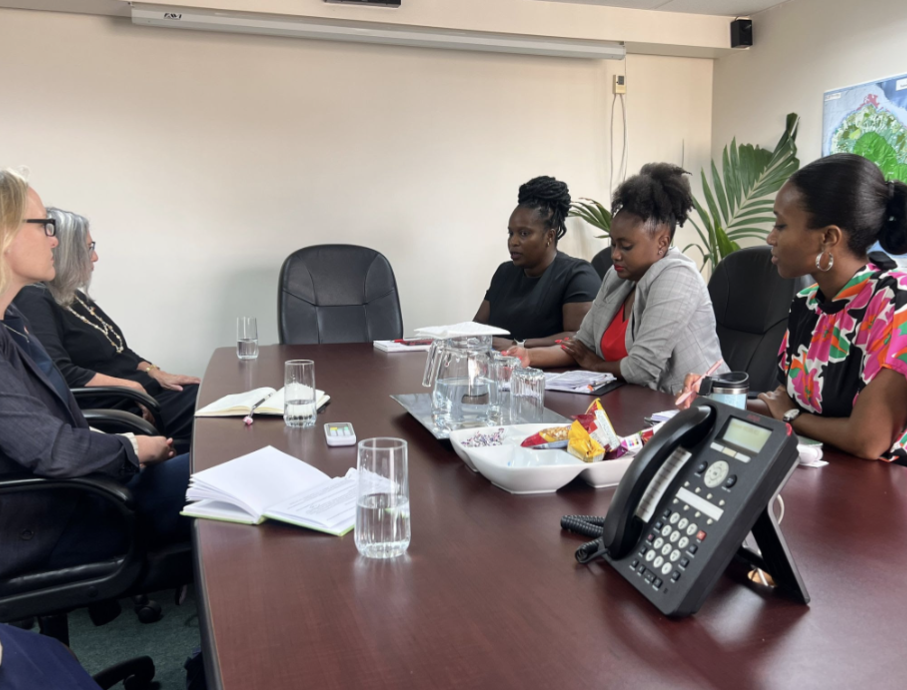 The dialogue focused on the current landscape of climate action in the Federation, centering the US-Caribbean Partnership to Address the Climate Crisis (PACC2030), a flagship initiative introduced in 2022 under the Biden-Harris Administration meant to elevate cooperation between the US and the Caribbean region via the advancement of climate adaptation, resilience mechanisms and clean energy cooperation.
Minister Clarke acknowledged the significance of this framework in the region-wide achievement of long-term climate goals and underscored the specific importance of equitable partnership and accessible climate financing to the Federation's mitigation and adaptation capabilities, especially as the country continues to seek viable pathways to the fulfillment of its Sustainable Island State Agenda (SISA).
The discussion also extensively covered other priority areas and key initiatives such as the revitalization of the SKN Geothermal Project, clean energy transition and alternative energy generation models, the Federation's current recycling and waste management strategies, as well as the potential greening of significant industries Federation-wide.
Minister Clarke and Ambassador Taglialatela underscored the necessity of joint efforts as well as continued, amplified technical exchange in ensuring that the Federation remains on track with the 2030 Agenda.
The meeting concluded with renewed commitments for deepened bilateral cooperation on climate action and resiliency efforts.
-30-